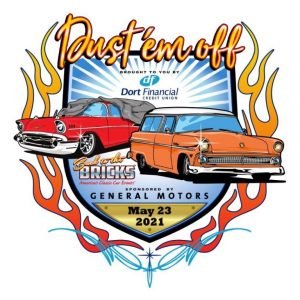 Back to the Bricks® is excited to announce and ALL NEW  event to their already impressive yearly lineup. 2020 brought many challenges, cancellations, and disappointments. But through it all, Back to the Bricks® stayed diligent and worked behind the scenes to plan new events for 2021 that will work with any social distancing guidelines in place.
We are thrilled for our car lovers because this one of a kind, all new event will be one of the first opportunities of the year for car fans to get their cars out, "Dust 'em Off" so to speak and showcase them for all to see.
Classic Car Registration Details:
Participants will NOT PAY to attend, parking is FREE for their classic car during the event. Gates to the Dort Financial Center will open to registered participants at 8am, entering off Lapeer Road. There will be lot attendants guiding you to your designated parking space. There will be T-Shirt Pickup at the Back to the Bricks® Merchandise booth with your name a size. Exchanges will not be allowed, so make sure you check the correct size when registering. 
Early registered participants will be eligible to win prizes and a FREE exclusive Back to the Bricks® Dust 'em Off T-shirt limited to one per vehicle. This will not be a judged event, but it will be a lot of fun, and chances to win prizes throughout the day.
Everyone that signs up will acknowledge and agree to be covered by insurance, practice any and all required Social Distancing Guidelines and Behavior rules to participate. 
Interested in the fun? Register here!
Public Info:
The public will enter off Lapeer Road., gates will open to the general public at 9am. The cost of parking is $5 to the event center. The event itself is FREE to the Public. Come and enjoy this family friendly atmosphere, classic cars, the sounds of good music, food trucks to buy your favorite treats from, enter to win free giveaways, and even get exclusive access to the Back to the Bricks® merchandise booth, which will have ALL NEW updated swag for purchase.
Dort Financial Center
3501 Lapeer Rd, Flint, MI 48503