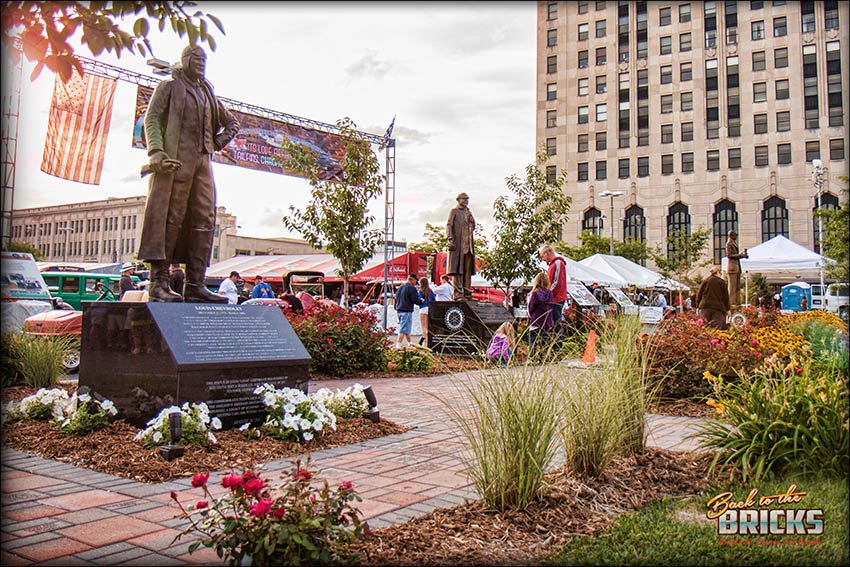 In 2012, Back to the Bricks® unveiled the first of several commemorative statues of important automotive pioneers. Life-size bronze replicas of David Buick, William C. (Billy) Durant, Louis Chevrolet, and Albert Champion stand proudly on the GM Automotive Pioneer Plaza in Downtown Flint.
Statues of Walter P. Chrysler and Charles W. Nash welcome visitors in the baggage claim area at Bishop Airport. Otto P. Graff stands at the corner of Court and Saginaw Street near the site of his early dealership. In addition, the newest statue is a bronze replica of Charles Stewart Mott, local philanthropist, outside the library on the campus of the college that bears his name.
Created by local artist Joe Rundell, these statues celebrate key leaders in business, industry, and labor whose vision, ingenuity, and determination became an integral part of the heritage and culture of the "Vehicle City." In the future, the project will honor other historic figures from the automotive industry.
JUST UNVEILED
On January 30th, 2021, a life-size replica of "Rosie the Riveter," took her place in the baggage claim area at Flint Bishop International Airport. During World War II, thousands of women joined the workforce to replace the men who were deployed overseas. Rosie's iconic image was inspired by their dedication and sacrifice. Rosie is the 10th statue in the Automobile Heritage Collection, but the first female. The fundraising and education of this statue was placed in the very capable hands of the Flint Women's Forum. They were excellent partners in making this statue come from a dream to reality.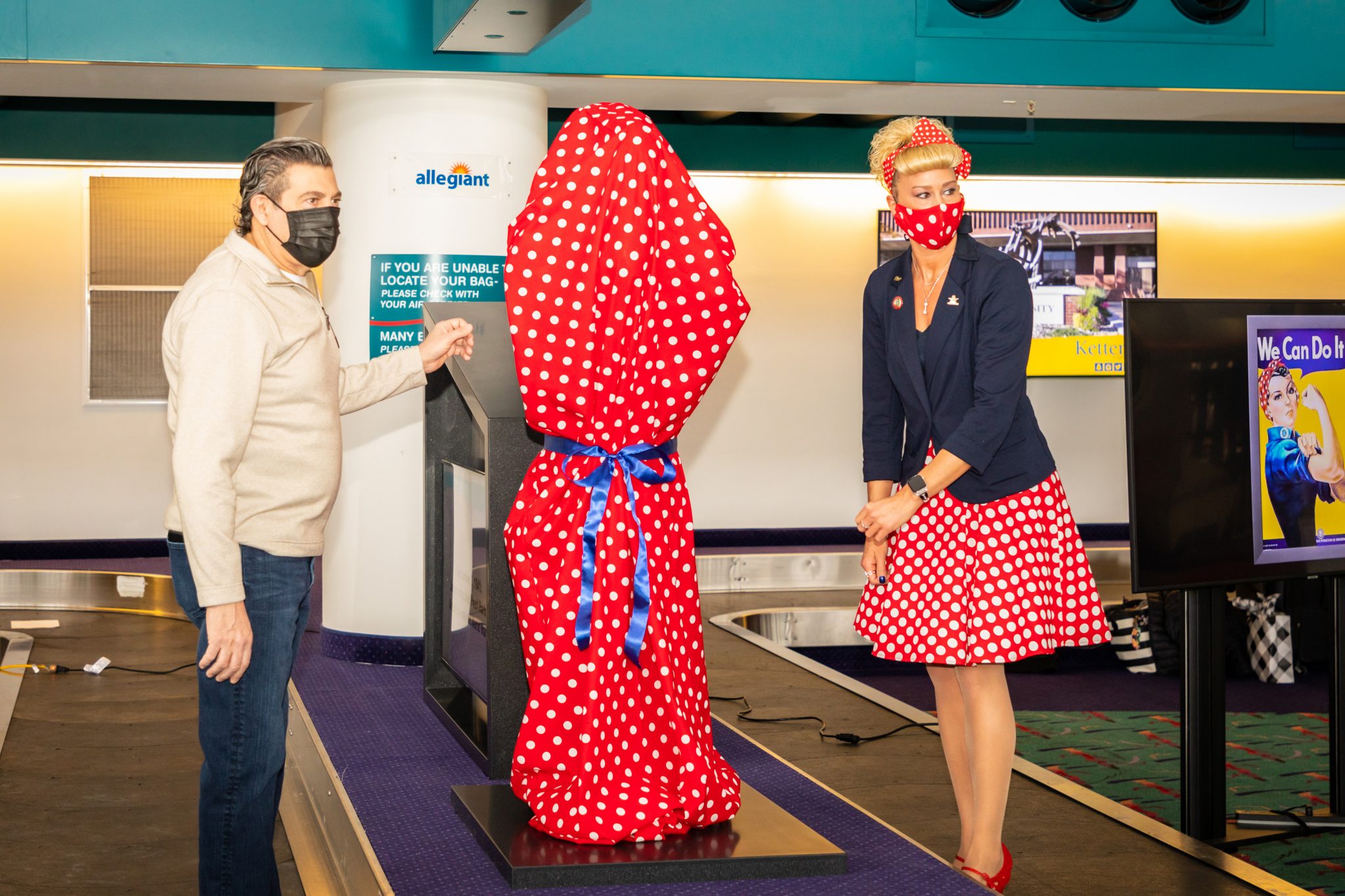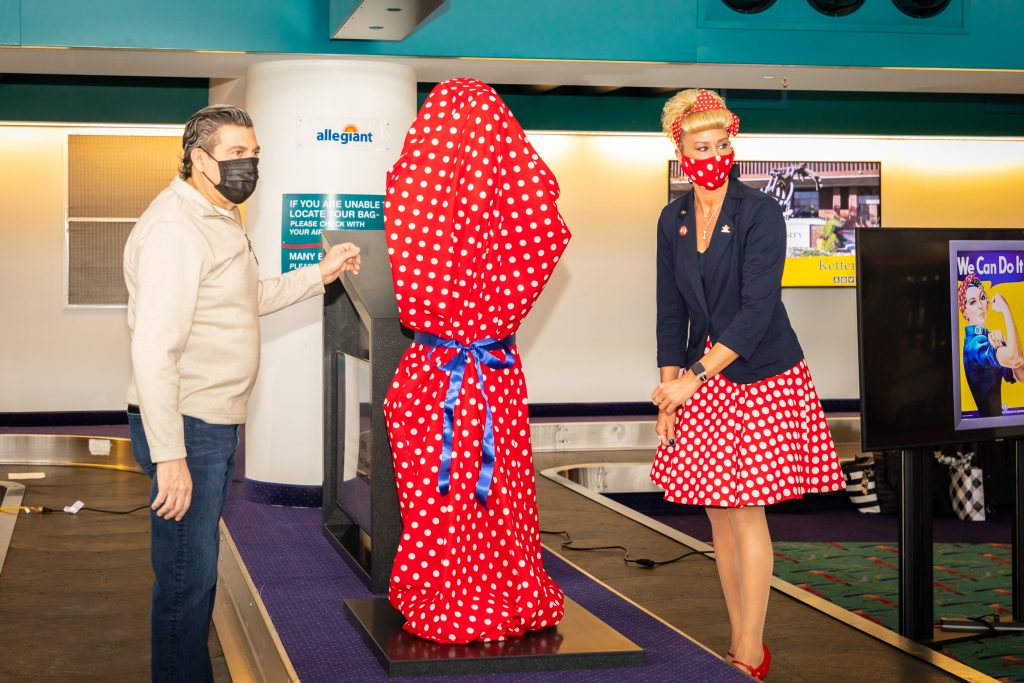 Chairman of the Automobile Heritage Collection, John Gazall and Executive Director Amber Taylor of Back to the Bricks unveil the 10th statue in the Automobile Heritage Collection, Rosie the Riveter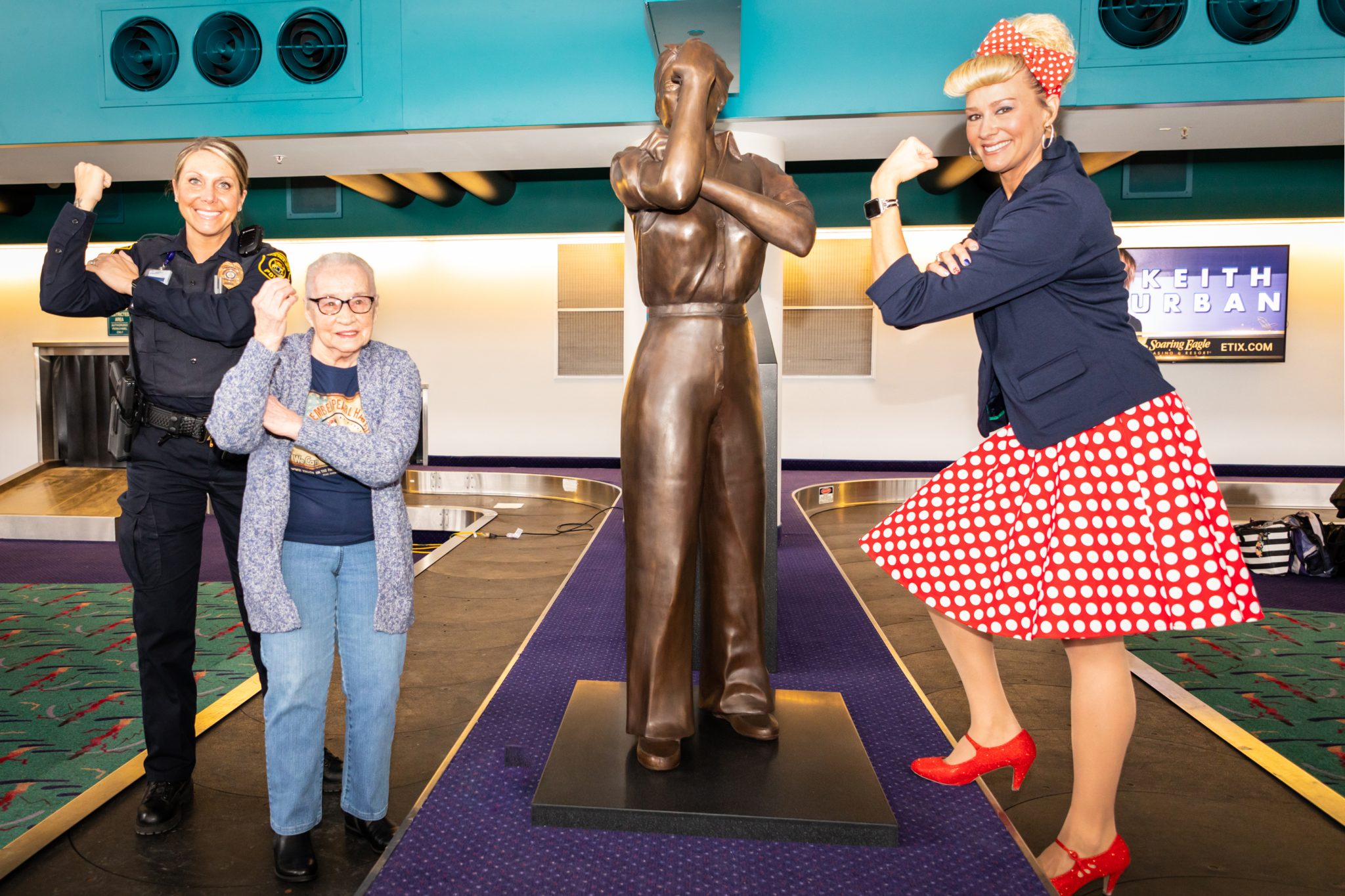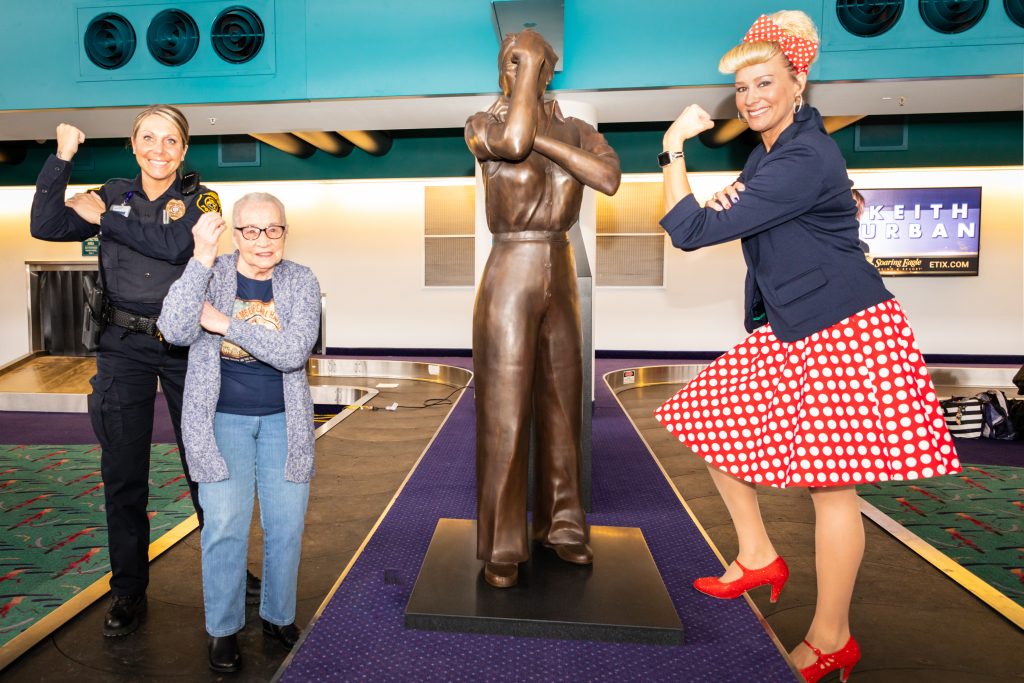 From left to right, Officer Jen, Real Life Rosie the Riveter, 98 year old Phyllis Jones and on right of Statue Executive Director Amber Taylor, CTA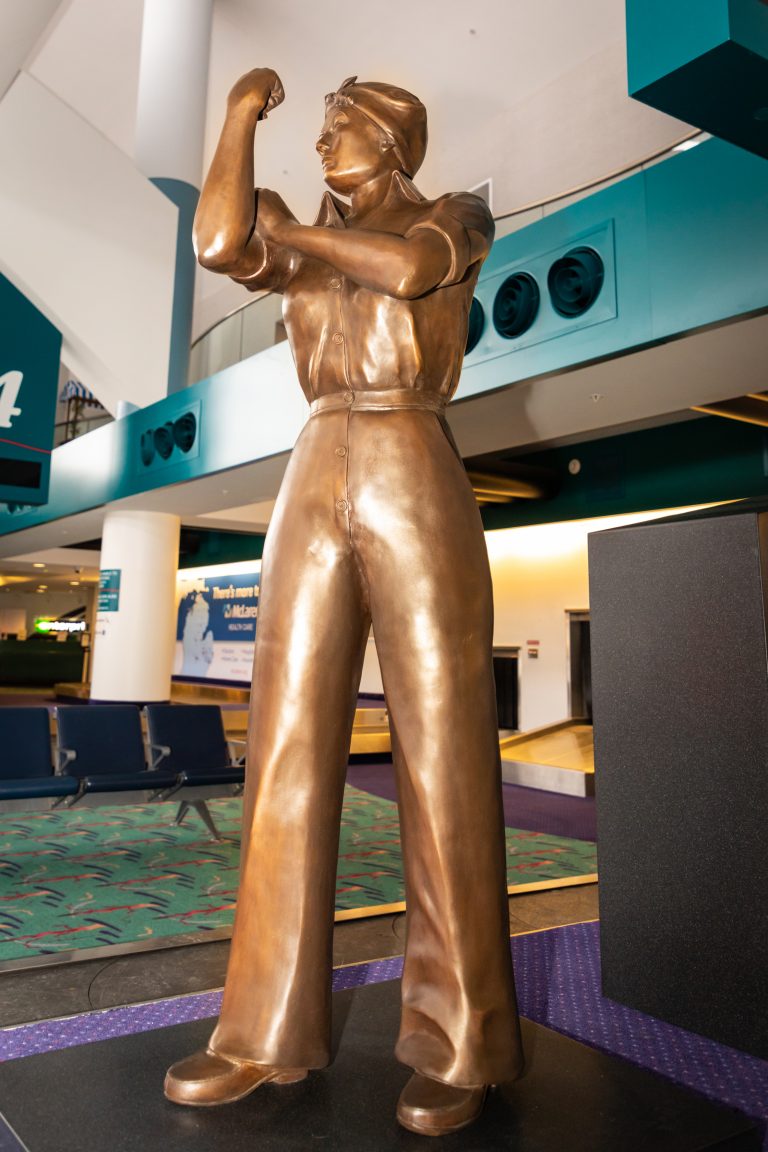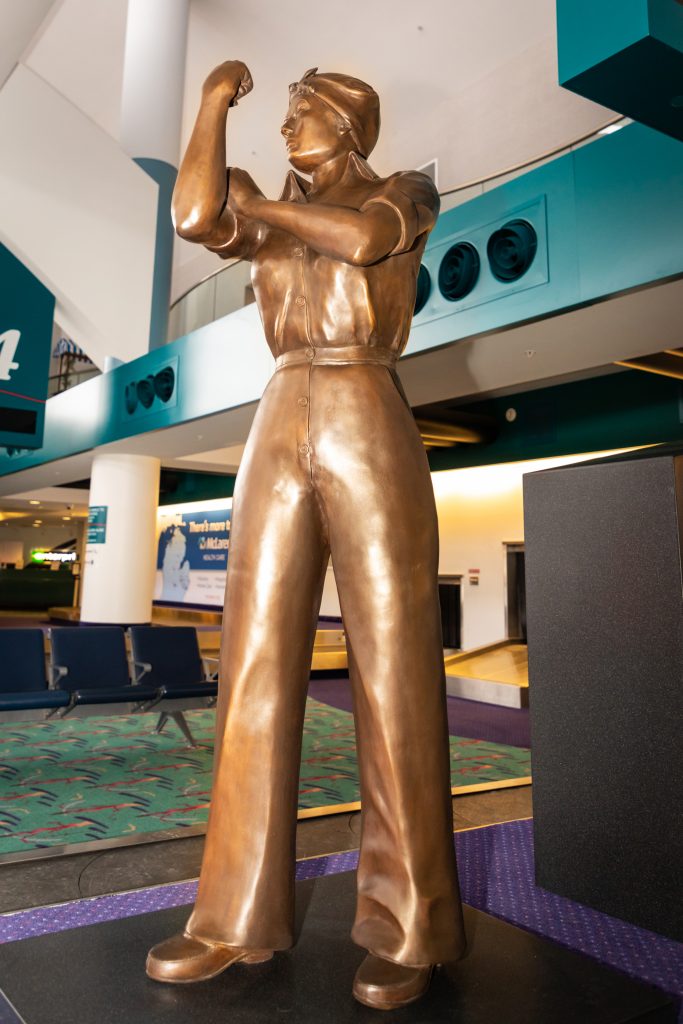 Placing a COMMEMORATIVE BRICK in the Pioneer Plaza in Downtown Flint is a great way to HONOR an individual, business, or organization that has had a positive impact on our community, REMEMBER a family member/friend, or SAY THANKS to veterans, first responders, and health care providers! Proceeds support the Automotive Pioneers Statue Fund, and are tax deductible.
For more info or to purchase a commemorative brick
to be installed in the statue plaza CLICK HERE.