FLAT LOT/DISPLAY AREAS
AUGUST 21, 2021
JOIN US next year for all the FUN and EXCITEMENT on August 21, 2021!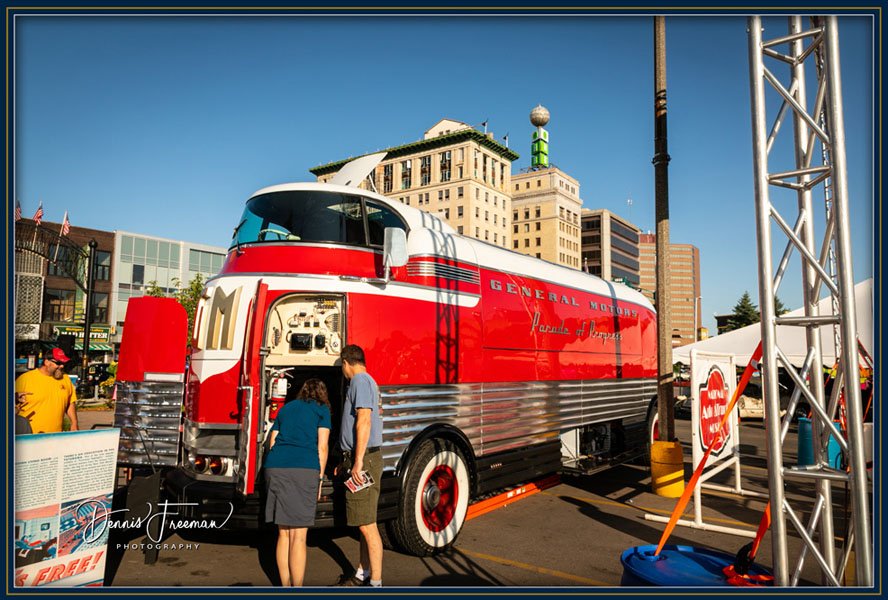 On Friday morning, the Flat Lot in Downtown Flint is a hot bed of activity as the Automotive Related sponsors and vendors set up their displays for everyone to enjoy. "Early birds" for the Cruise "N" Concert on Friday night, and those who attend the Saturday Show will find plenty to see and do. It's a great place to experience the excitement, buy souvenirs, taste the food, sample our signature Back to the Bricks® Root Beer, and enjoy the music and fun that has become synonymous with Back to the Bricks®, one of the nation's biggest and best Classic Car Events.
The Flat Lot is the traditional venue for the Opening Ceremony on Saturday morning featuring presentation of the colors, patriotic music, and a salute to our veterans. The bronze replicas of automotive pioneers whose vision, ingenuity, and determination became an integral part of the heritage and culture of the "Vehicle City" are just a few steps away in Statue Plaza.
The 15th Anniversary Back to the Bricks® Saturday Show was an event to remember! The National Automotive and Truck Museum (NATMUS) in Auburn, Indiana brought one of the few remaining General Motors Futurliners. The "General Motors Heritage" display featured more than 20 vehicles manufactured from 1908 to 2020, many of them in Flint.
Fans of the nationally syndicated TV show, Counting Cars, had an opportunity to meet our 2019 Celebrity Guests, Shop Manager Kevin Mack, Lead Painter Ryan Evans, and Air Brush Artist Mike Henry, and check out their cars at the concert Friday night and Saturday on the Flat Lot where they signed autographs, and posed for pictures.
At the second site on Saginaw Street in front of the University of Michigan Pavilion, reserved for Non-Automotive Displays, Edward Renehan, author of a new biography, The Life of Charles Stewart Mott: Industrialist, Philanthropist, Mr. Flint, met fans and autographed his book at the Ruth Mott Foundation Table during the Saturday Show.
CLICK HERE to learn how you can be a direct participant, sponsor, or vendor.