OPENING CEREMONY
AUGUST 21, 2021
Mark your calendars, and join us on August 21, 2021
for another exciting Opening Ceremony!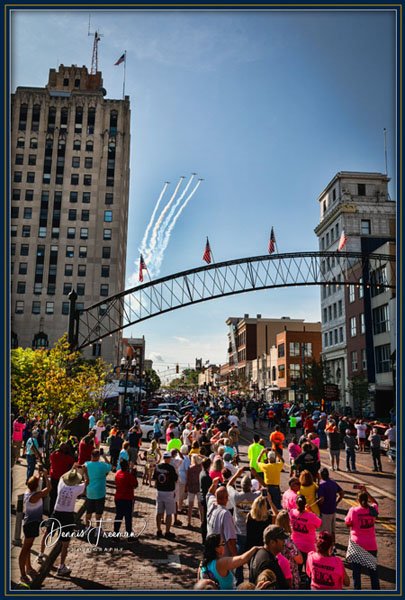 The Opening Ceremony will begin promptly at 10:00 AM on Saturday with a rousing salute to our veterans and active duty personnel. A Color Guard accompanied by some of America's finest will march from the south on Saginaw Street. At the same time, a procession of flags and military personnel will proceed to the north of the Statue Plaza in the center of downtown Flint where the two groups will converge.
This special ceremony will honor the men and women of the armed forces for their service and sacrifice to our country. BttB's honors those who protect and defend the freedoms we hold dear, past and present, those who paid the ultimate sacrifice, and those who continue to answer the call. The program will include an Invocation, an inspiring performance of our National Anthem by a special guest, and winner of our First ever Back to the Bricks Idol Contest, Sarah Falardeau. Special "flyovers" by amazing military aircraft will make its' way along Saginaw Street high above.
Taking to the stage in addition to Amber Taylor Executive Director of Back to the Bricks, will be Grand Marshal Dr. Bobby Mukkamala, and Cheryl Sclater, Public Relations Manager at ELGA Credit Union, who will welcome those in attendance. Commemorative T-shirts were given to our veterans, courtesy of Insta-Lube. Amber Taylor Executive Director of Back to the Bricks® and Mayor of Flint Sheldon Neeley will provide closing remarks.