AUGUST 20, 2022
Mark your calendars, and join us on August 20, 2022
for another exciting Opening Ceremony!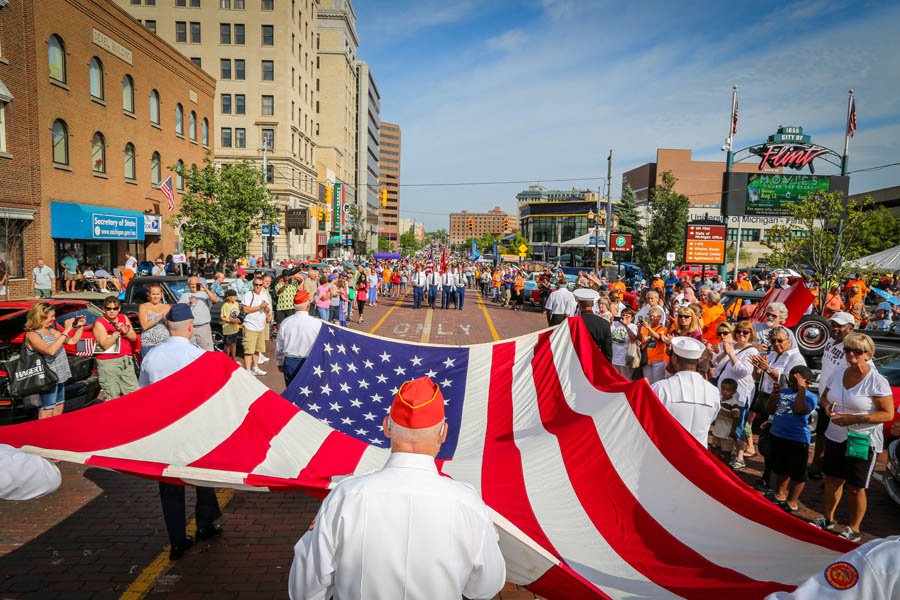 The Opening Ceremony will begin promptly at 10:00 AM on Saturday with a rousing salute to our veterans and active duty personnel. A Color Guard accompanied by some of America's finest will march from the south on Saginaw Street. At the same time, a procession of flags and military personnel will proceed to the north of the Statue Plaza in the center of downtown Flint where the two groups will converge.
This special ceremony will honor the men and women of the armed forces for their service and sacrifice to our country. BttB's honors those who protect and defend the freedoms we hold dear, past and present, those who paid the ultimate sacrifice, and those who continue to answer the call. The program will include an Invocation, an inspiring performance of our National Anthem by a special guest Professional Michigan Auctioneer, and retired Flint Firefighter Cliff Thurlow. Special "flyovers" by amazing military aircraft will make its' way along Saginaw Street high above.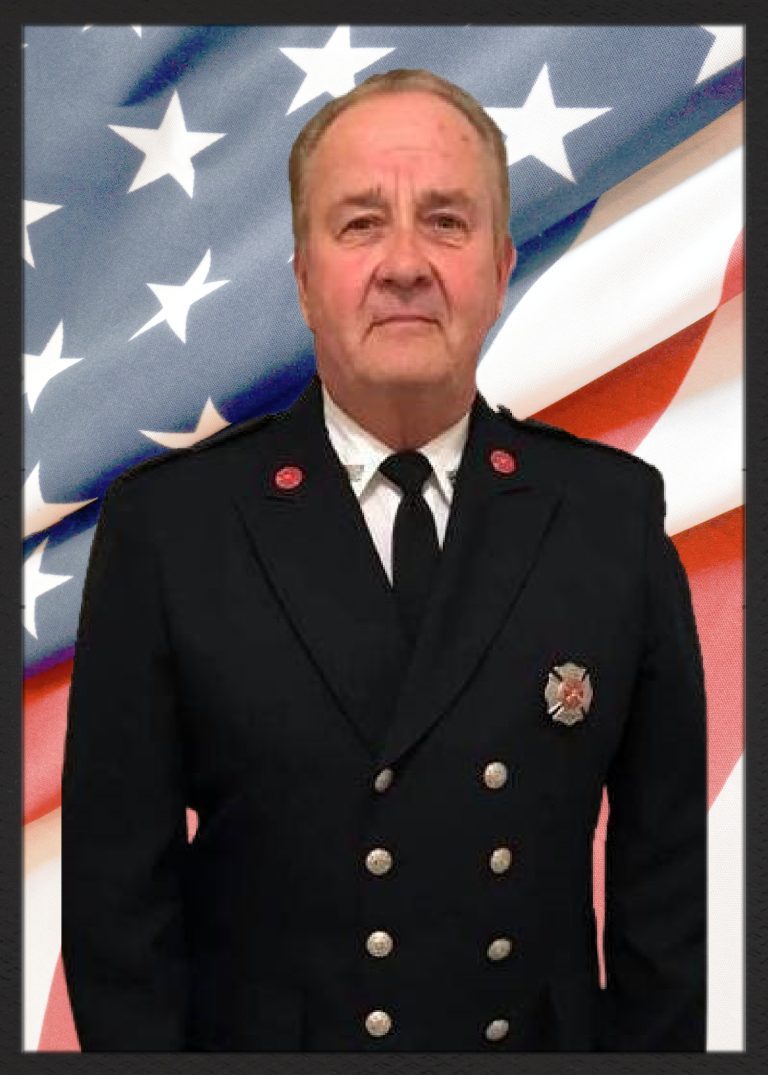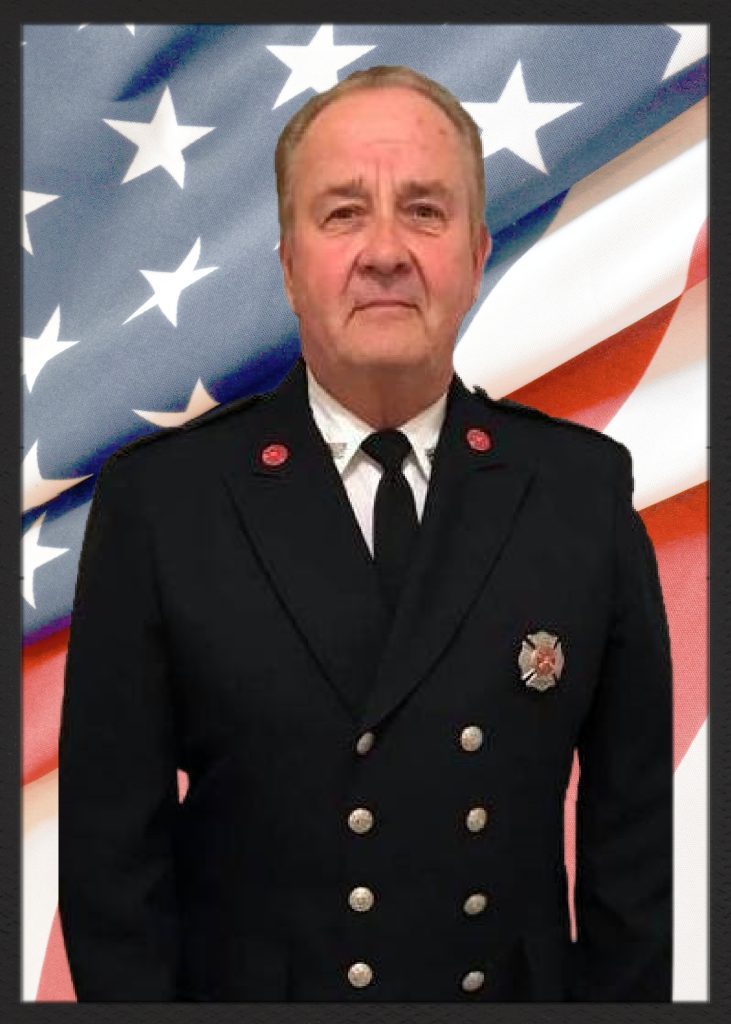 Taking to the stage in addition to Amber Taylor Executive Director of Back to the Bricks, will be Grand Marshal Burton Police Officer Dalton Christie, Mayor Sheldon Neeley and guests. Commemorative T-shirts will be given to our veterans, courtesy of Insta-Lube while supplies last. 
Amber Taylor Executive Director of Back to the Bricks® and Mayor of Flint Sheldon Neeley will provide closing remarks.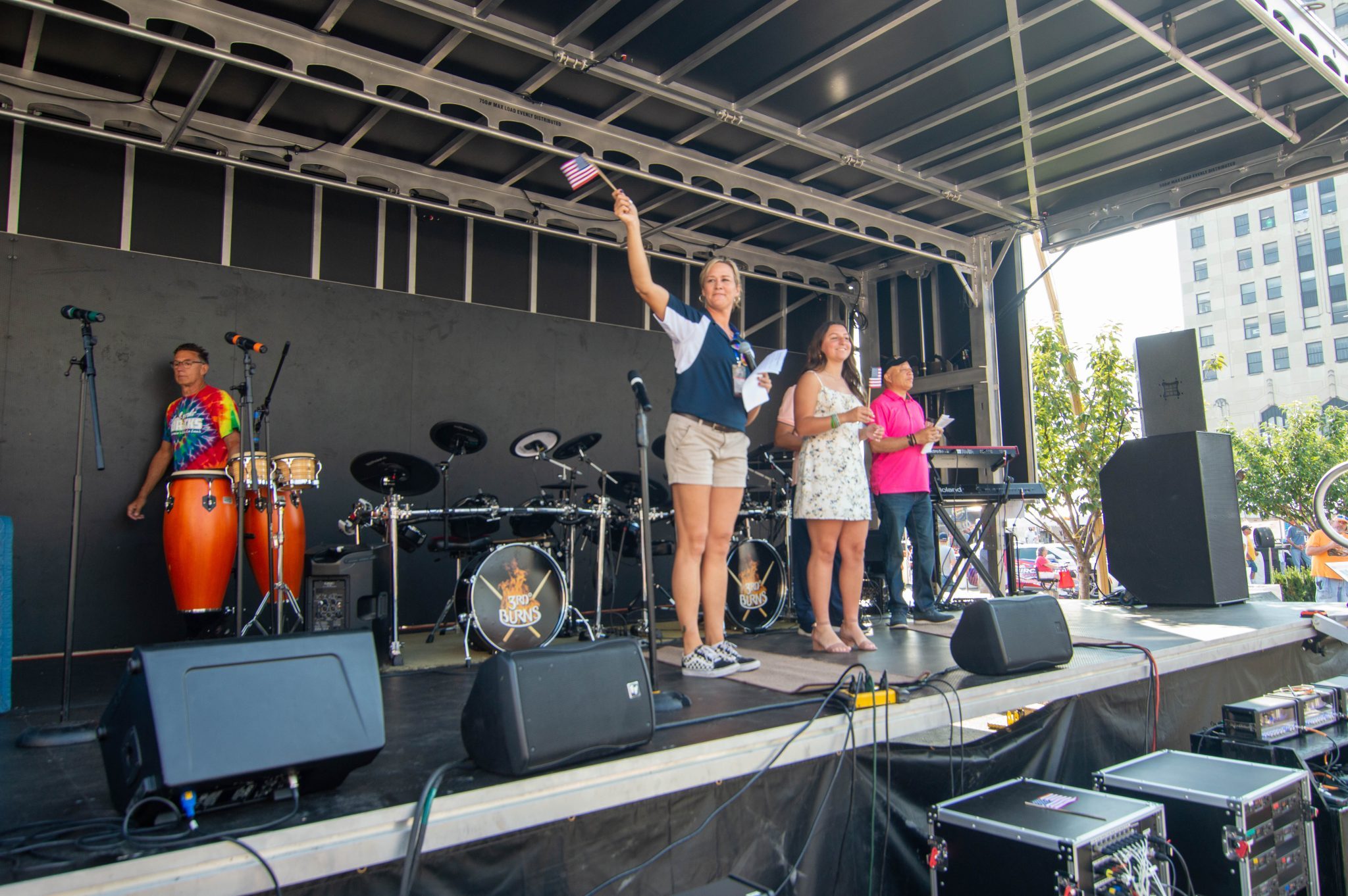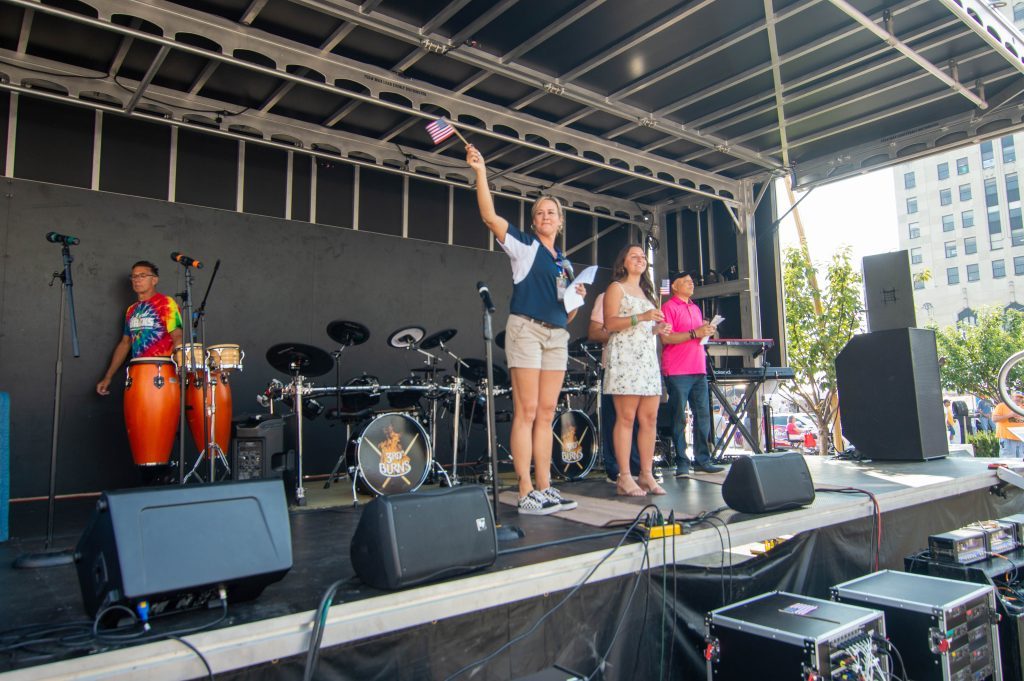 Each year Back to the Bricks is honored to have a special display and tribute that incudes a 4 plane Military Flyover. The timing of our entire event is critical and in the very capable hands of long time Board of Director, Jerry Preston. Jerry has a special Radio and communicates through the entire ceremony with the pilots above. Our Pilots are dedicated to honoring all that have served, and they are delighted to be apart of this year's festivities again. 
Let's learn more about our pilots...
Pilot Bruce Koch from Goodrich Michigan
1942 Convair SNV-1 based at Flint Bishop International Airport. 
His Aircraft was a WWII US Navy Trainer, which served as an instrument, formation, aerobatic and navigation trainer at NAS Pensacola and NAS Corpus Christi, was sold as surplus in 1946 for $450, and was used as a tanker for an AG spray company in California, restored to static display in 1984, brought to Michigan in 1994 and returned to flight. This is one of only 2 of type still flying. His wife Cheryl and Bruce maintain this aircraft as a tribute to the Greatest Generation for their sacrifices and efforts during WWII. Bruce was a search and rescue pilot for USAF Aux. for 14 years.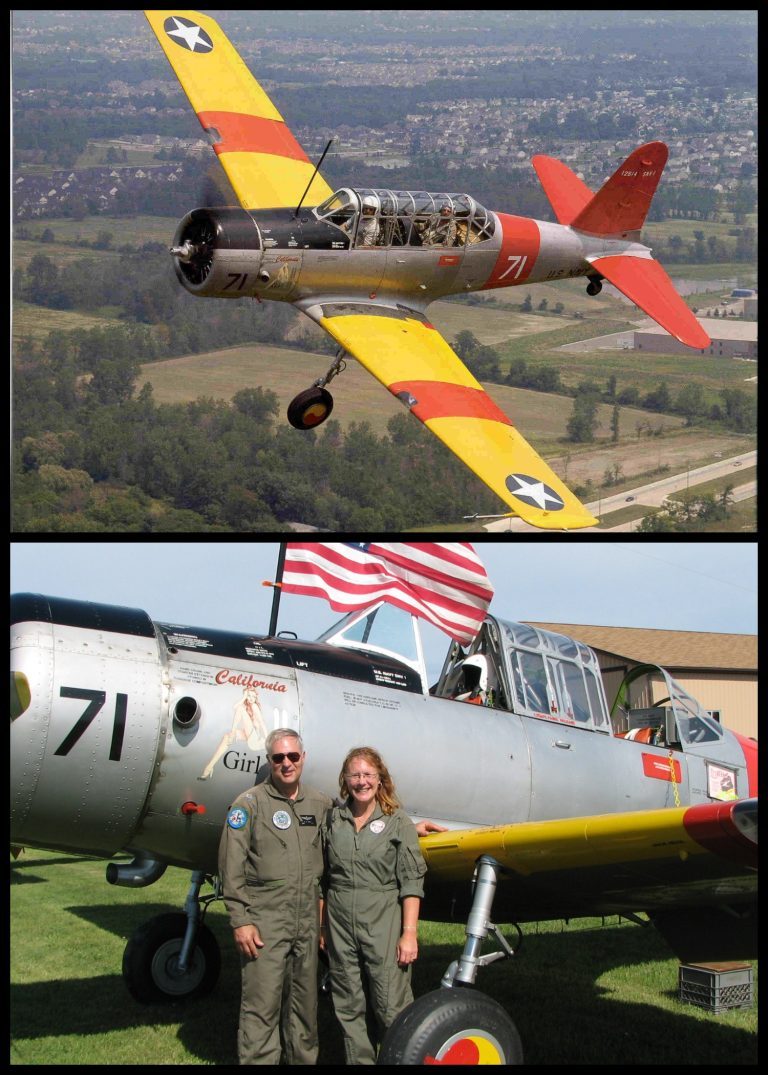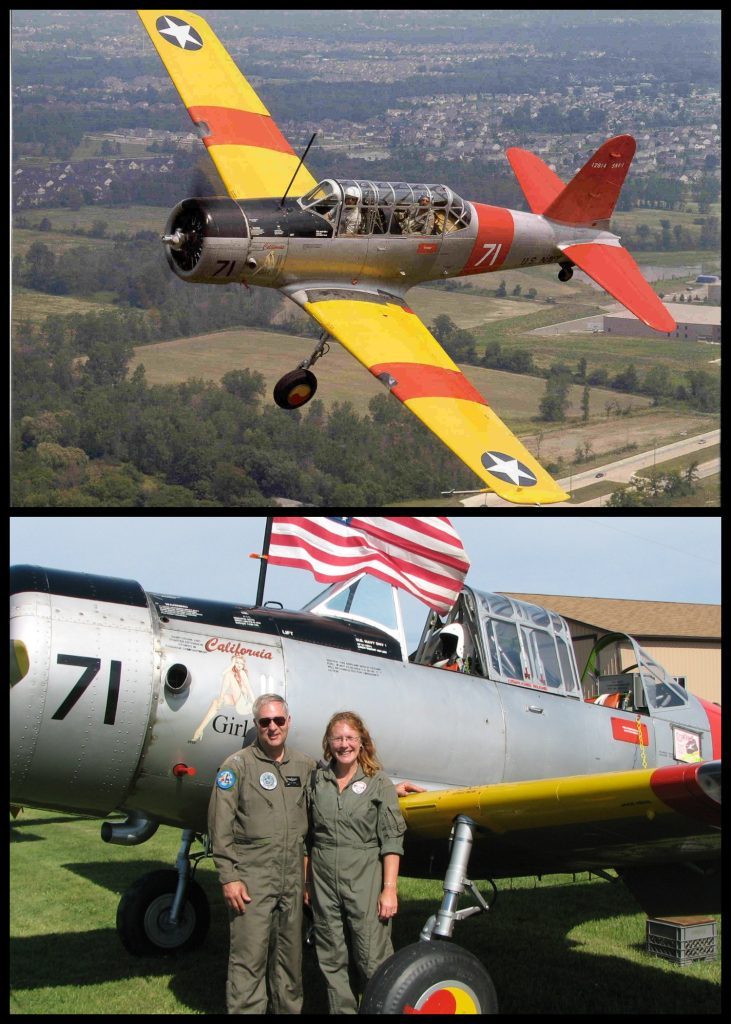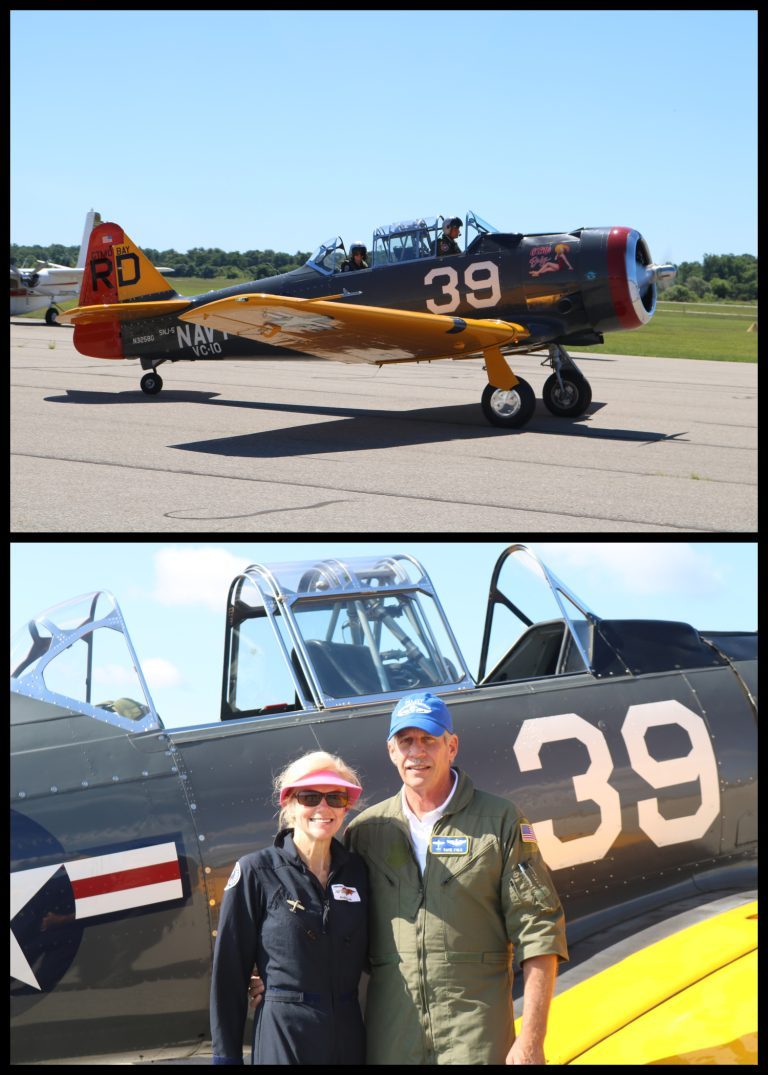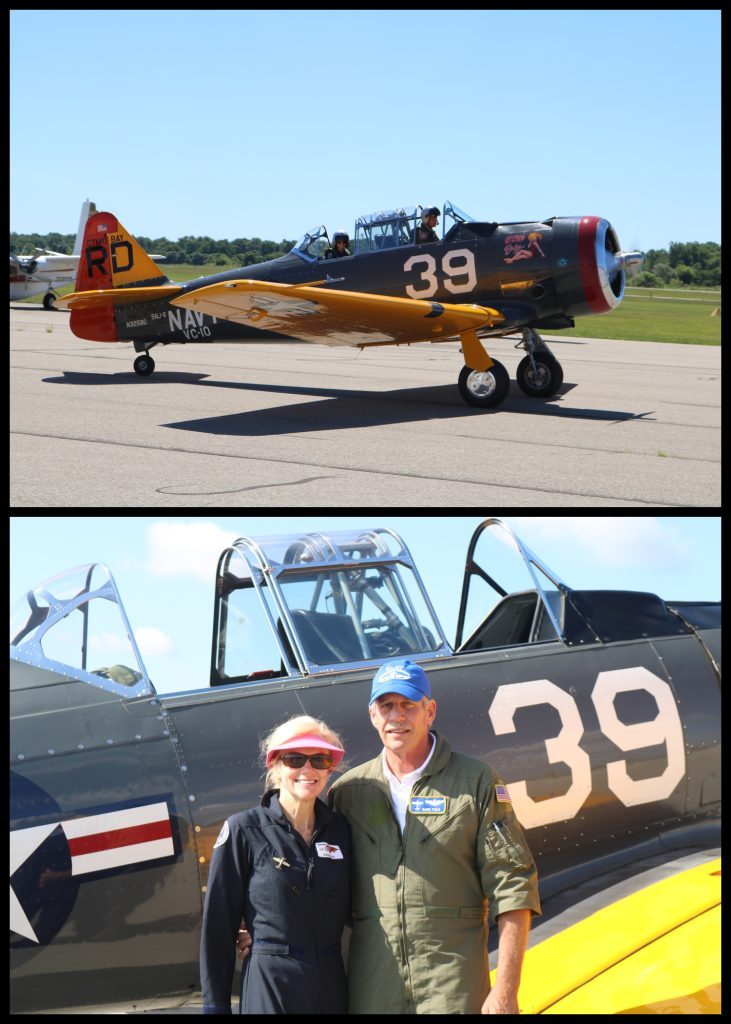 Pilot David Folk from Kalamazoo Michigan
1944 North American SNJ-5
Was used as an advanced trainer, it did everything the SNV did plus aerial gunnery training and carrier qualification. This aircraft was sold for civilian use in 1964 currently used strictly as a hobby and to fly in special events.
Bob Pingston from Morrice Michigan
1945 North American AT-6G
This plane was used as a pilot trainer for USAAF and later USAF, also used as a forward air controller in Korean War the mark targets with rockets. It carried guns rockets and bombs. It is flown to honor those who flew and fought in both WWII and the Korean war.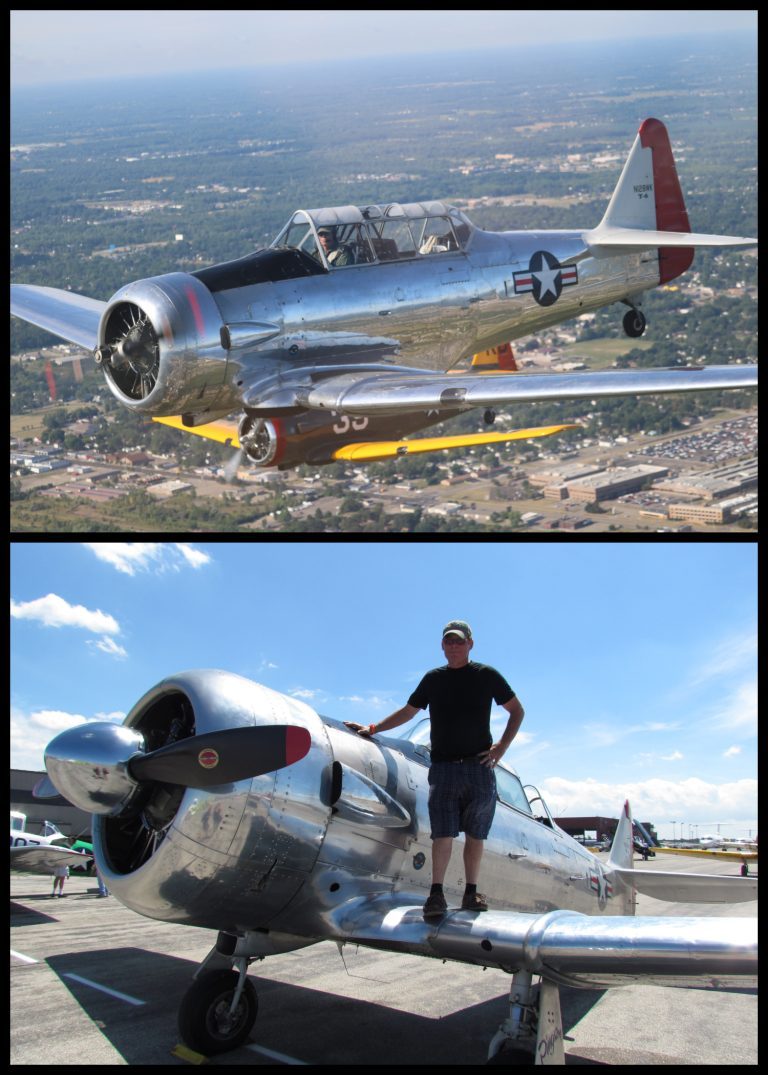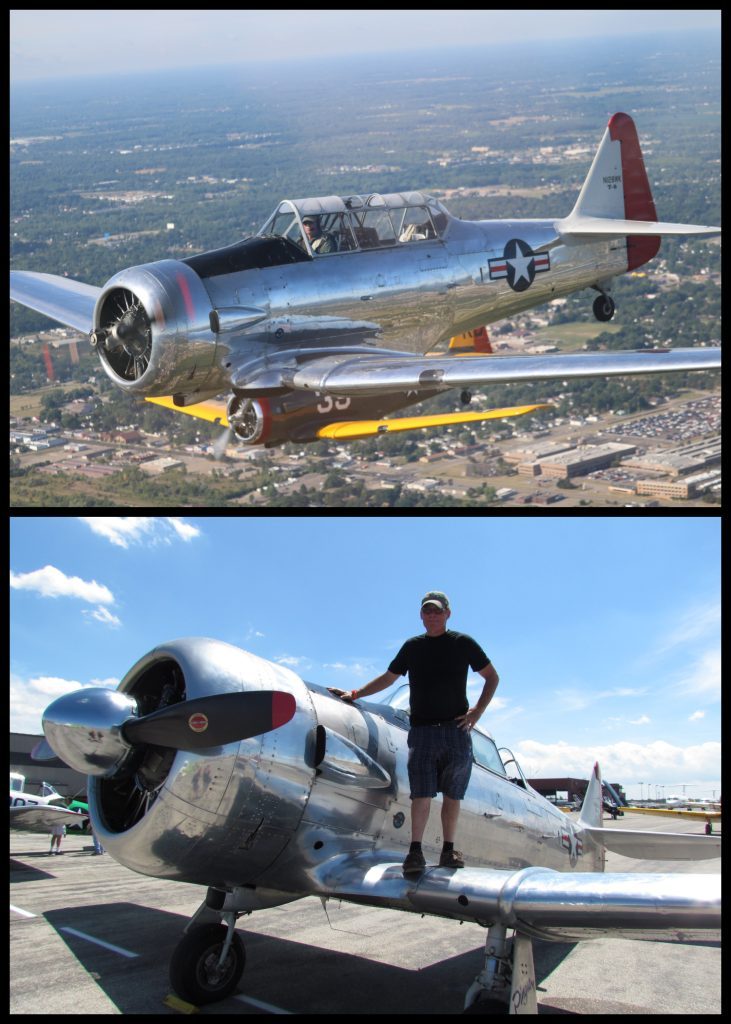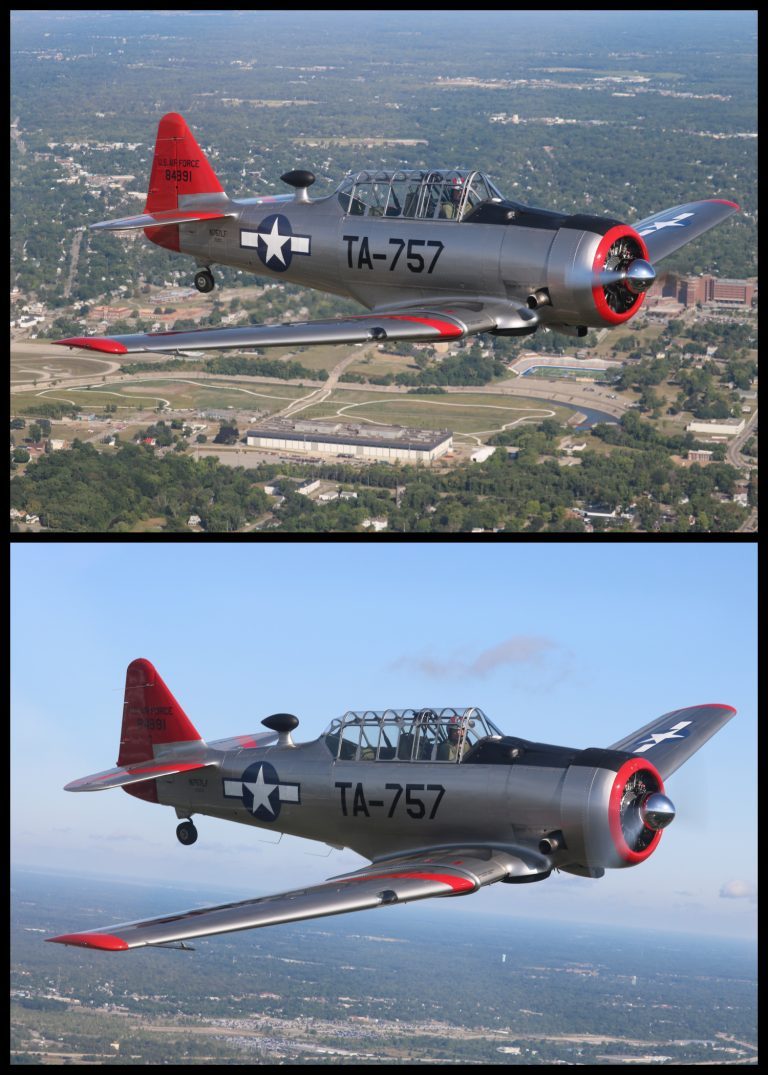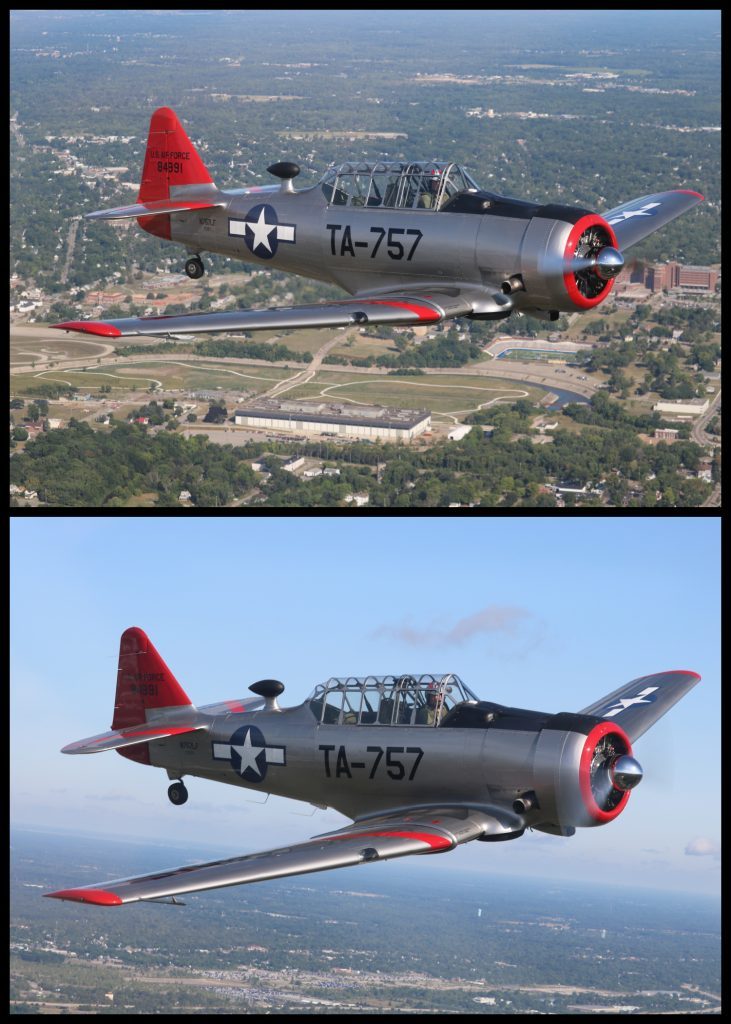 Lou Feldvary from Smith Mtn. Lake, VA.
North American AT-6D. His aircraft after Korea, served in the Spanish Air Force & after it was decommissioned, it returned to the United States in 1972 as a privately owned "Warbird".
After show season Lou takes his aircraft back to his home in Smith Mtn. Lake, VA. During Show Season, it is based out of Jackson Reynolds Airport in Jackson Michigan. 
This aircraft is primarily flown in veteran memorial flights. Pilot Lou Feldvary is a retired airline pilot with 37 years of Airline Service and 53 years as a Pilot. Lou loves getting out and flying his plane in honor of those who flew and served.
See the rest of the week of FUN here!