2018 PROMO TOUR/June 8 – 13, 2018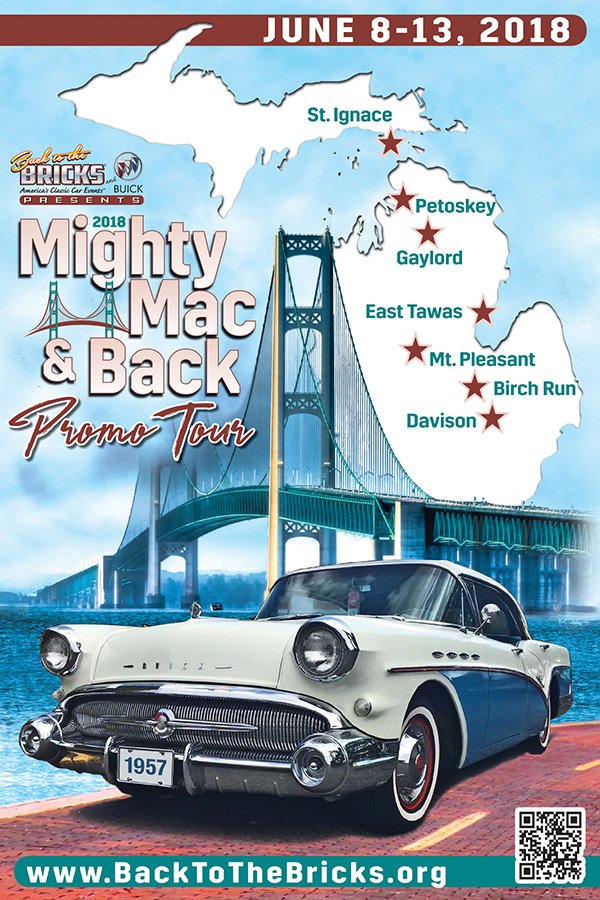 Each June the Back to the Bricks Annual Promo Tour provides an opportunity of adventure and camaraderie for hundreds of classic car owners. The six-day tour is designed to do two things:  (1) promote all Back to the Bricks® events, especially the August "main event" car show held in downtown Flint, Michigan, and (2) showcase each participating city's unique features and foster economic development.

BREAKING NEWS! Join us June 8-13 for the 2018 "Mighty Mac & Back" PROMO TOUR, leaving from Davison with overnight stops in Mt. Pleasant, Gaylord, Petoskey, St. Ignace, and East Tawas, culminating with an "End of the Road" Luncheon at the Birch Run Speedway & Event Center. Early Bird Registration Fee is $45 ($60 after April 28th). Registration for the 2018 Promo Tour begins January 2, 2018.
For more INFORMATION, and STEP-BY-STEP INSTRUCTIONS for the registration process,
CLICK HERE.
Friday, June 8, 2018
Saturday, June 9, 2018
Sunday, June 10, 2018
Monday, June 11, 2018
Tuesday, June 12, 2018
Wednesday, June 13, 2018
To view photos from the 2017 Heritage Promo Tour, CLICK HERE